D'esperienza nel settore promozioni.
Solution Group providing custom promotional items for multinational corporations since 1985
Più di trent'anni di esperienza in un settore sempre in evoluzione, del quale ogni giorno interpretiamo le tendenze per proporre soluzioni promozionali efficaci e al passo con i tempi.
Tra i nostri clienti spiccano tra le più grandi multinazionali al mondo che scelgono i nostri servizi con la sicurezza di poter contare su un partner affidabile, capace di semplificare anche le sfide più complesse.
Our specialties include personalized promotional gifts, technical clothing, and web-shop sono la nostra specialità.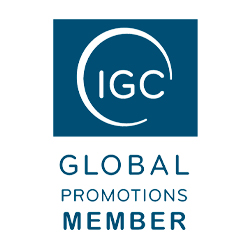 We are part of IGC Global Promotions
Since 2005, we have been the exclusive Italian members of the IGC, attivo in più di 48 paesi nel mondo. Offriamo ad aziende multinazionali la garanzia di un servizio globale on-site, modellato sulle specifiche esigenze dei loro mercati promozionali di riferimento. Operando in modo trasversale in più sedi, possiamo ottimizzare i costi con ordini massivi e convenienti.
IGC è il gruppo internazionale di regalistica aziendale e promozionale di cui Solution Group è parte attiva per l'Italia. Dal 1956, IGC riunisce le migliori esperienze del settore promozionale operanti nel mondo, con l'obiettivo di far fronte in modo coordinato e specializzato alla crescente richiesta di prodotti promozionali. 
Oggi più che mai, IGC è la risposta migliore alle esigenze di aziende multinazionali che hanno bisogno di un partner unico in grado di gestire efficacemente tutti gli aspetti e i possibili problemi presso le diverse sedi internazionali.
In Italia pochissime società del settore promozionale possono offrire questo servizio. We are one of the rare Italian companies that can sign global contracts with on-site service. on-site. Ci proponiamo come partner unico per coordinare le attività promozionali in tutte le sedi internazionali.
La tua azienda potrà contare su una dedicated agency in every Country. Essa potrà gestire le esigenze locali conoscendo la cultura, i trend e gli andamenti del mercato.
Moreover, thanks to our network, you can make acquisti massivi per più Paesi. This way, production costs, and management costs are reduced significantly.
An International Purchasing Office at 360 degrees!
Se la tua è una multinazionale con più sedi nel mondo, noi siamo il partner ideale per semplificare il tuo lavoro e coordinare i tuoi sforzi promozionali.
HEADQUARTER



Laan van Nieuw Oost-Indië 131-G
2593 BM The Hague
The Netherlands
TELEPHONE

+31 (0)70 318 00 31
EMAIL 

association@igcpromotions.com
EMEA | emea@igcpromotions.com
NA | na@igcpromotions.com

LATAM | latam@igcpromotions.com
APAC | apac@igcpromotions.com
GLOBAL | global@igcpromotions.com
Una quadra di 19 elementi a tua completa disposizione